Preparation:
To make pickled green chili topping, combine sliced chilies and vinegar in a bowl. Keep it aside till needed. 

Boil the potatoes in instant pot

 

or stove-top pressure cooker. Once cool to touch, peel the skin and mash them using a potato masher.
Also, chop the onions and keep them ready. 
Make coriander chutney at home or buy it from the Indian grocery store or

 

Amazon.
To make frankie masala at home, you will need – red chili powder, coriander powder, garam masala, roasted cumin powder, turmeric powder, black pepper powder, black salt and amchur powder

Mix these spice powders in a bowl.

How To Make Frankie Dough And Roti?
1) Take all purpose flour, wheat flour and salt in a bowl. Mix well.

2) Add oil and mix with your fingertips. Then start adding little water at a time and keep kneading till you get a soft, smooth dough. Cover it and let it rest for 15 minutes.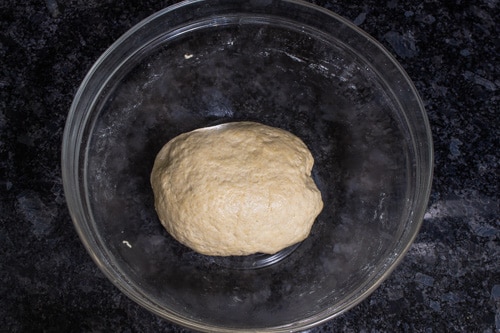 3) After the resting time, knead the dough again to smooth out. Then divide into 4 equal portions. Make smooth balls and flatten it between your palm.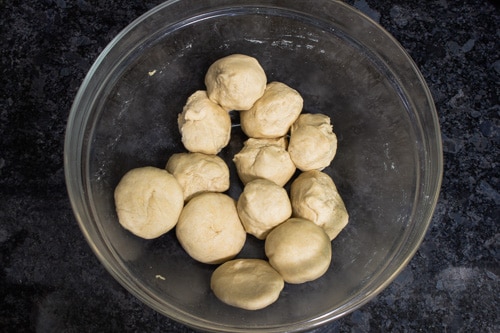 4) Work with one flattened disc at a time and roll into 9-10 inch diameter circle. While rolling if it is sticking then you can use the dry flour.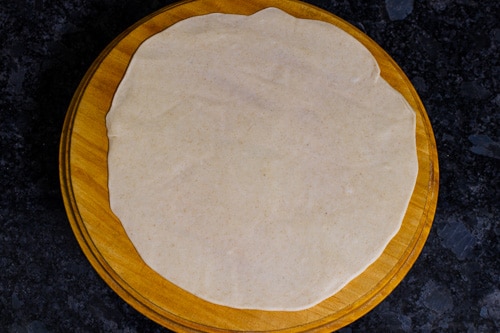 5) Once you have few roti rolled up and ready, heat the pan/skillet on medium heat. Once hot place rolled roti. Once you see a few bubbles on top then flip and cook another side. We are partially cooking the rotis. We'll do the rest of the cooking at the time of assembling.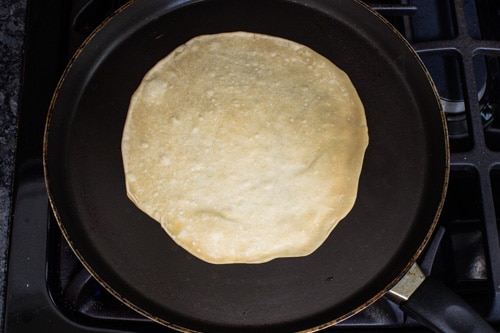 6) Remove it to a plate and cook rest of them similarly. Stack the cooked rotis and keep them covered.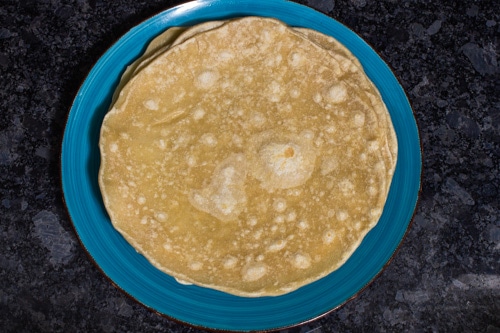 How To Make Frankie Stuffing?
1) Heat the oil in a pan on medium heat. Once hot add crushed ginger-garlic-green chili paste. Saute for 30-40 seconds or till the raw smell of ginger garlic goes away.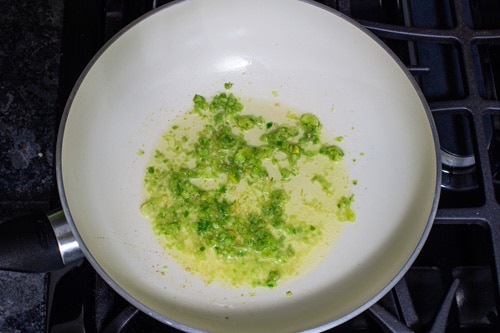 2) Then add frankie masala and red chili powder. Lower the heat so spices do not burn.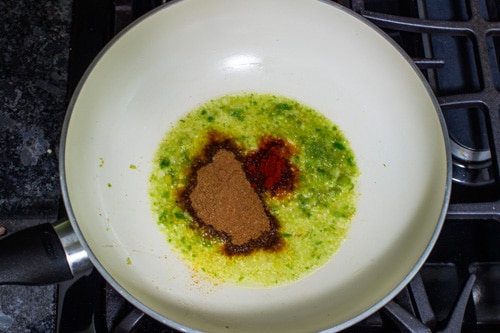 3) Mix and cook for 10-20 seconds only.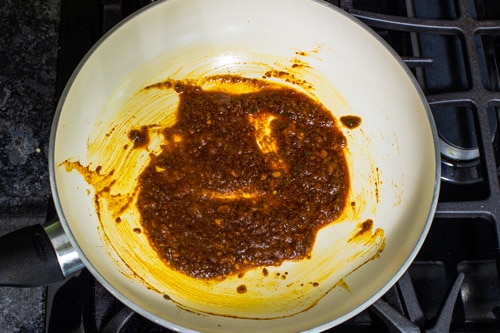 4) Immediately add boiled mashed potatoes.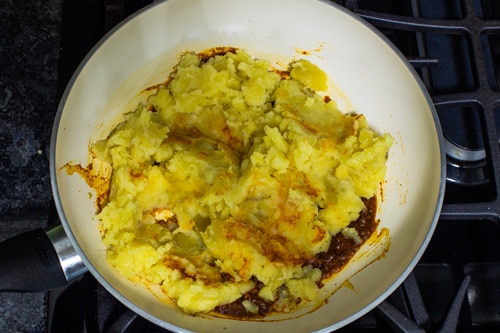 5) Mix well so spices are mixed properly.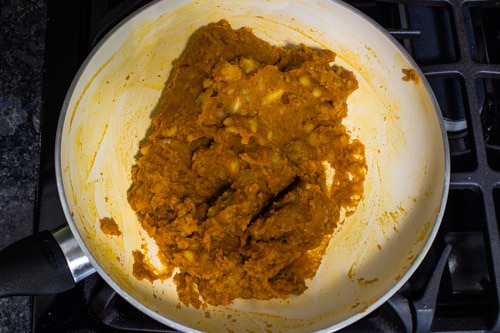 6) Turn off the stove and mix in chopped cilantro.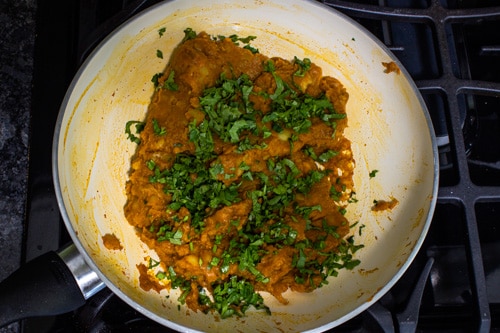 7) Once it is cool to touch, divide it into 4 equal portions and shape into a cylindrical log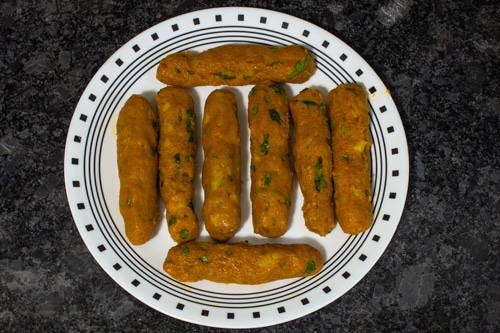 How To Make Frankie Roll? (Assembling)
1) Heat the pan on medium heat. Add a generous amount of oil and fry the potato rolls from all the sides till they get golden brown in color. Remove it to a plate.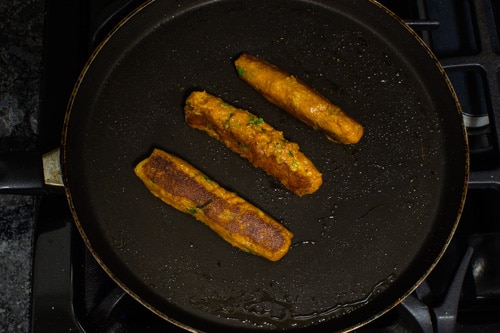 2) Now add a teaspoon of oil and place the partially cooked roti and cook the bottom side. Apply oil and topside, flip and cook another side.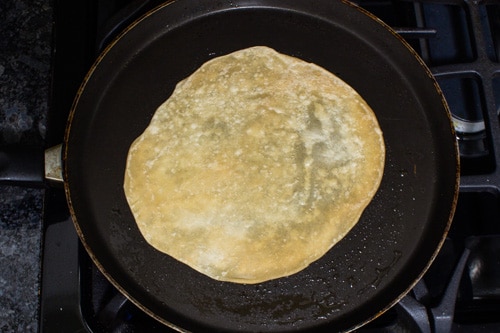 3) Place the cooked roti on a work surface.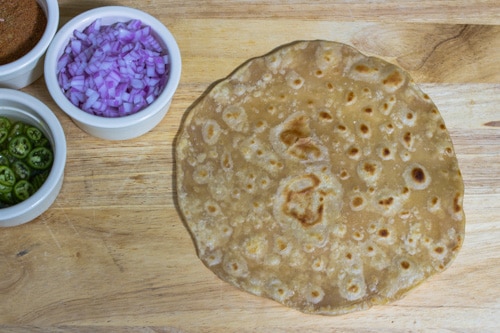 4) Spread the green chutney and sprinkle frankie masala.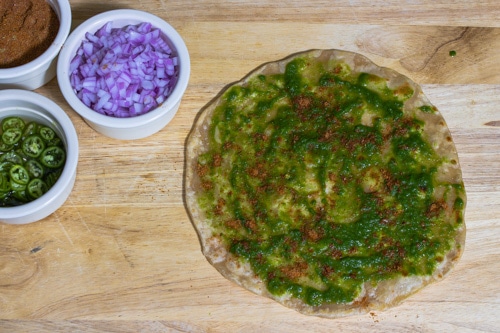 5) The place potato roll on one side, sprinkle chopped onions on top.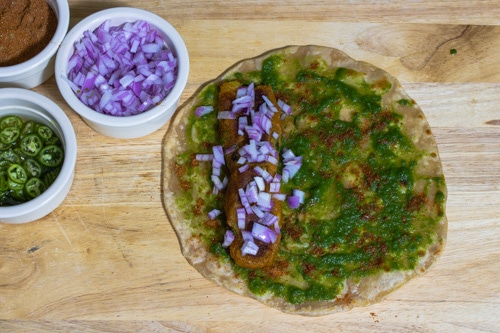 6) Then add a few pickled green chilies.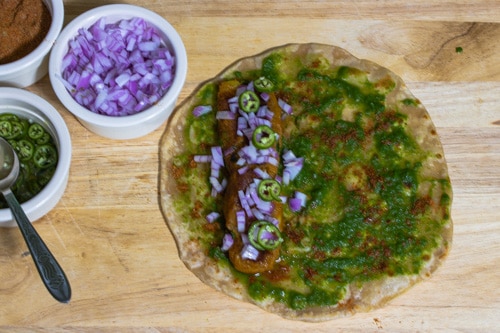 7) Then start rolling it from the potato roll side, and halfway through close the one side (bottom side). In short, make a roll by keeping the one side open and another bottom side closed.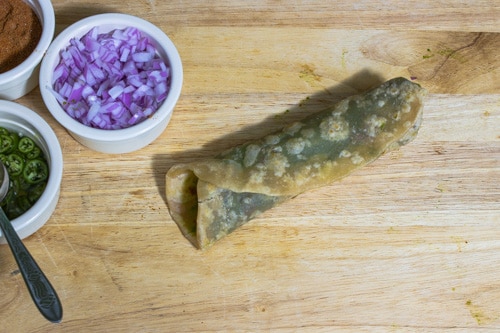 Wrap it in WrapN'Roll Food Wrapping Paper and enjoy !